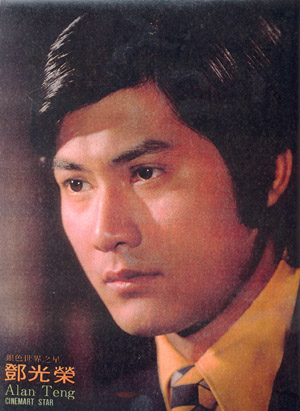 Hải Âu Phi Xứ (When the Seagull flies - 1974)

COMMENTS
The following 1970's pictures were contributed to this webpage on Alan Tang by his long-time fan Irene. To read the 1970's articles use the articles link below. Both the pictures and the articles are very special and I am sure you will enjoy them as much as I have. Thanks again to Irene for sharing her treasures with all of us. Many of the articles and pictures came from the Cinemart Star Magazine, which I understand is no longer published. Too bad, because they did a great job in covering Alan Tang's early career. There will be more added to this section as time permits.

PICTURES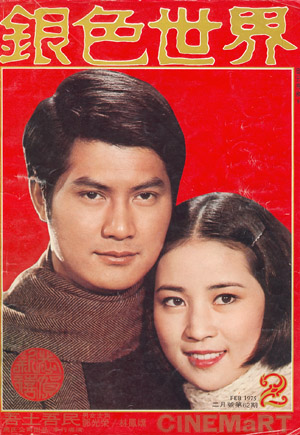 Alan Tang on the Cover of Cinemart Magazine in 1975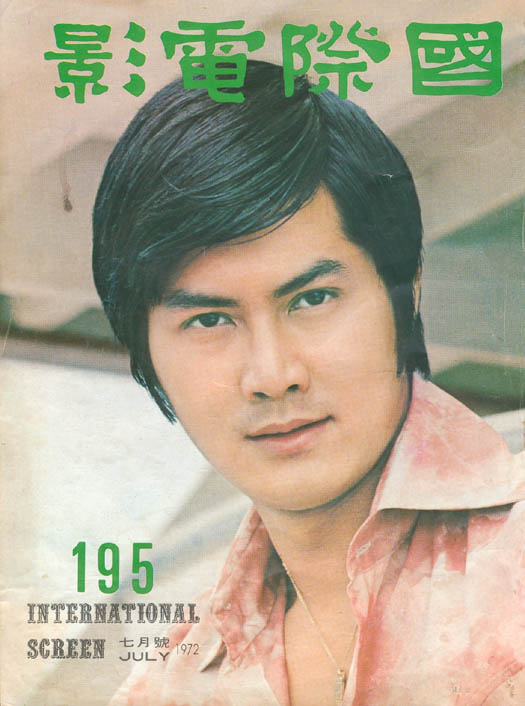 Alan Tang on the Cover of International Screen in 1972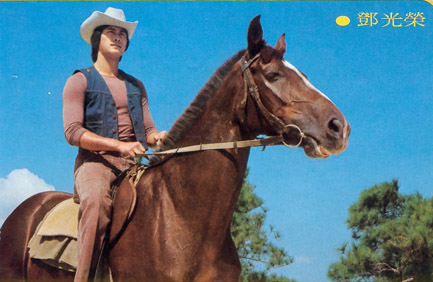 The above four pictures are from the movie, Land of the Undaunted also known as Our Land, Our People.

---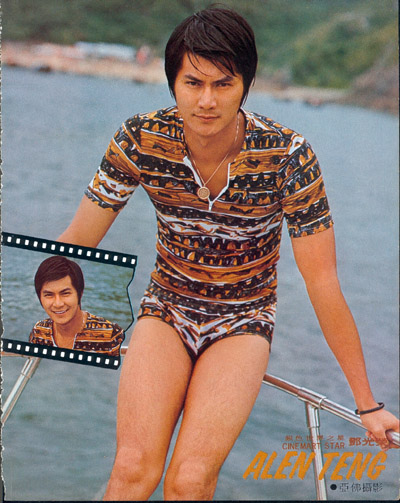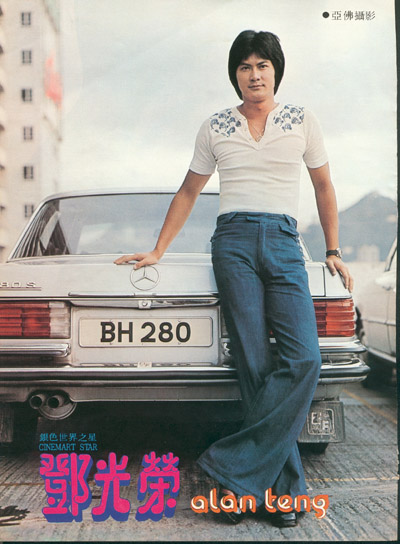 Alan Tang in two more pictures above from the Cinemart Star.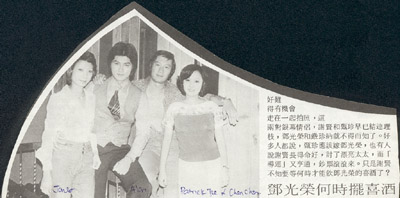 Alan Tang with girlfriend Janet Yen Chen Nah on the left, director Patrick Tse and costar Chen Chen on the right. Patrick Tse and Chen Chen were husband and wife.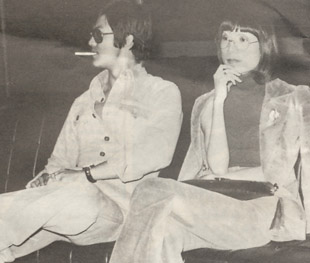 Alan Tang with girlfriend Janet Yen Chen Nah on the right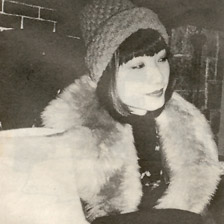 Alan Tang's girlfriend and future wife Janet Yen Chen Nah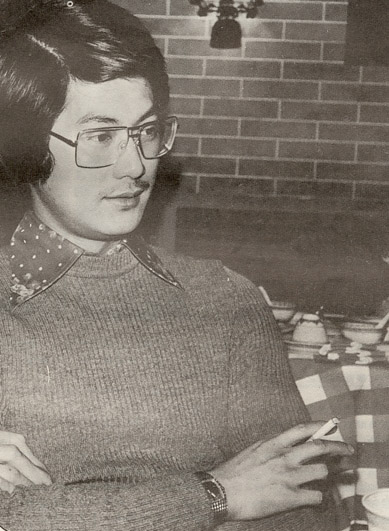 A serious looking Alan Tang gives an interview in article #3 use link below to the Articles Section.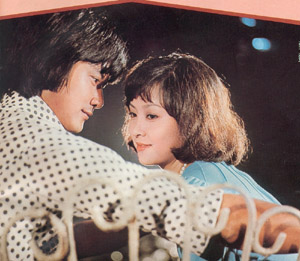 Alan Tang and co-star Chen Chen
---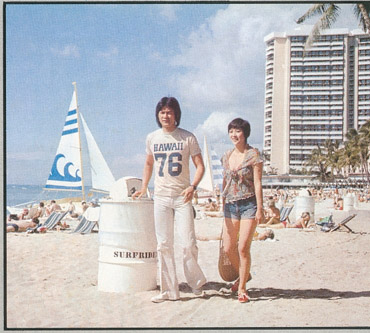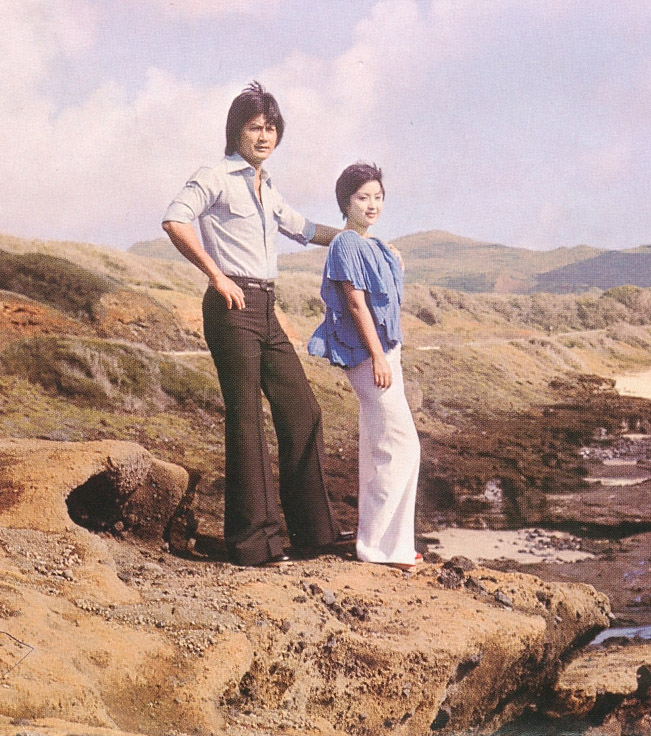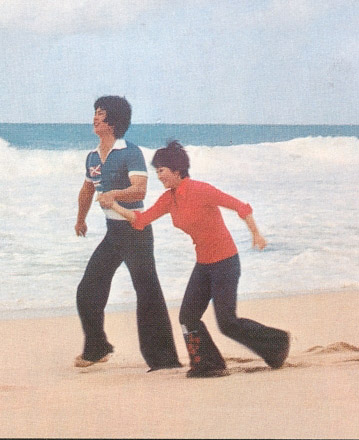 Three pictures of Alan Tang filming Love in Hawaii in 1976.
---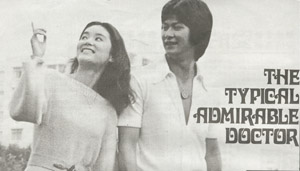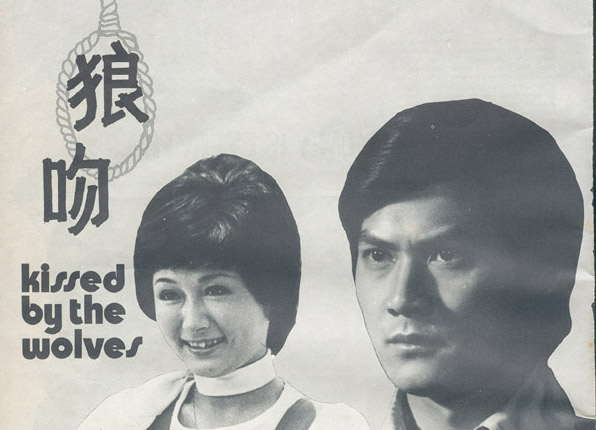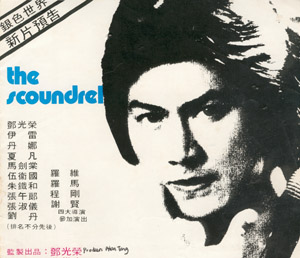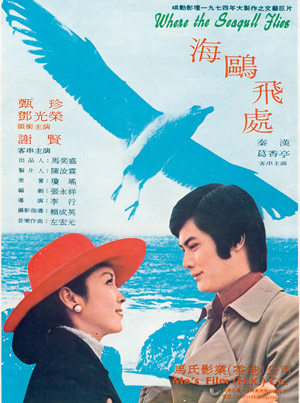 Four pictures of Alan Tang from the movie titles shown.
---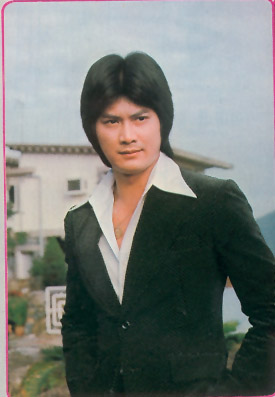 Alan Tang in the movie Born Rich
---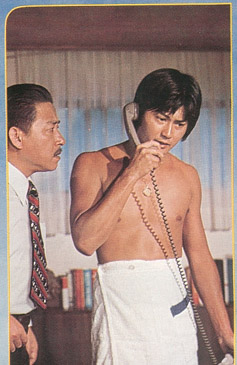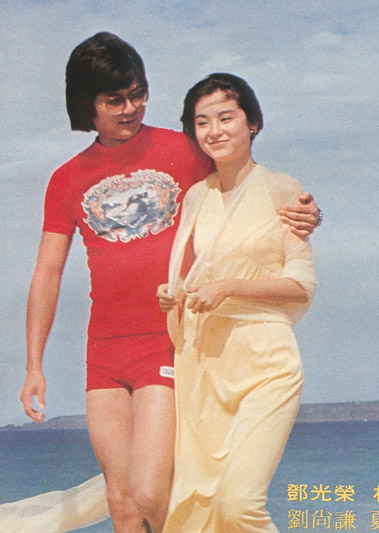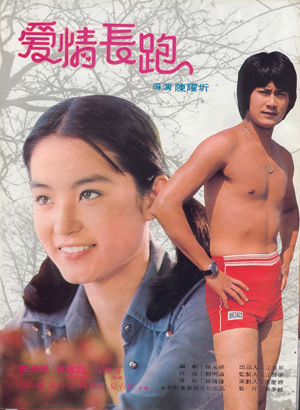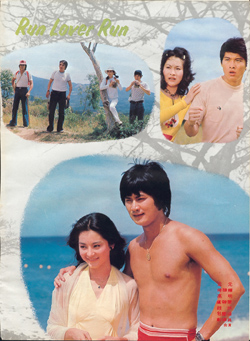 Four pictures of Alan Tang from Run Lover Run
---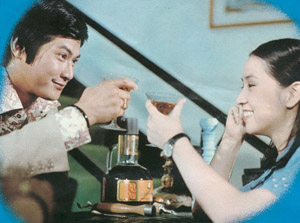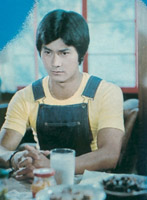 Two pictures of Alan Tang from the movies First Come, First Love.
---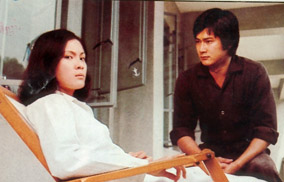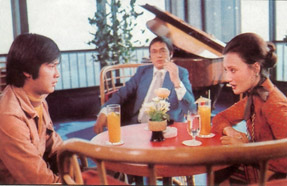 Two pictures of Alan Tang from Paradise filmed in 1974 with Lee Ying, Jenny Hu and Chen Kong.
---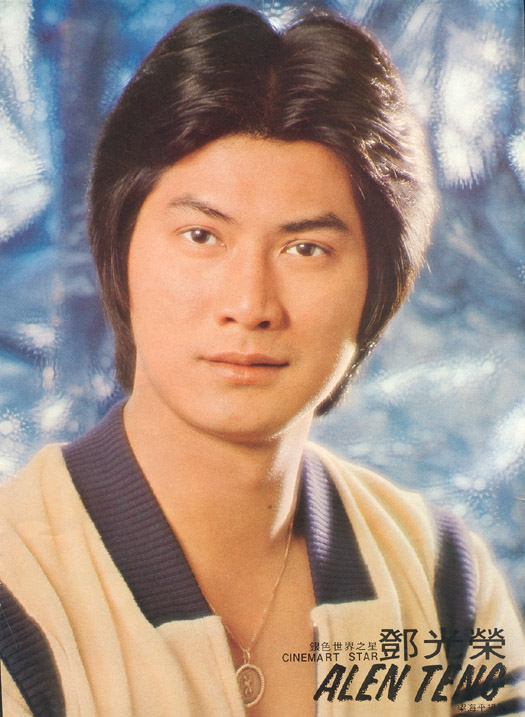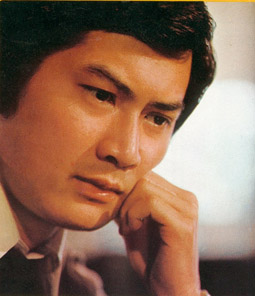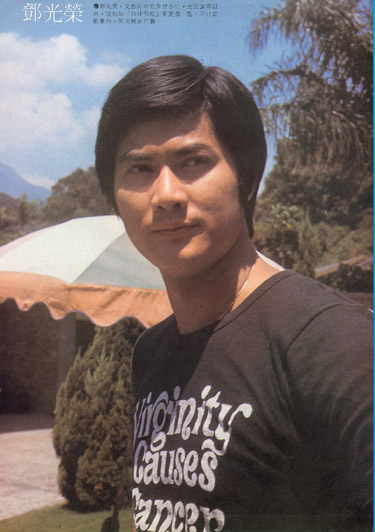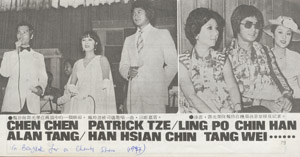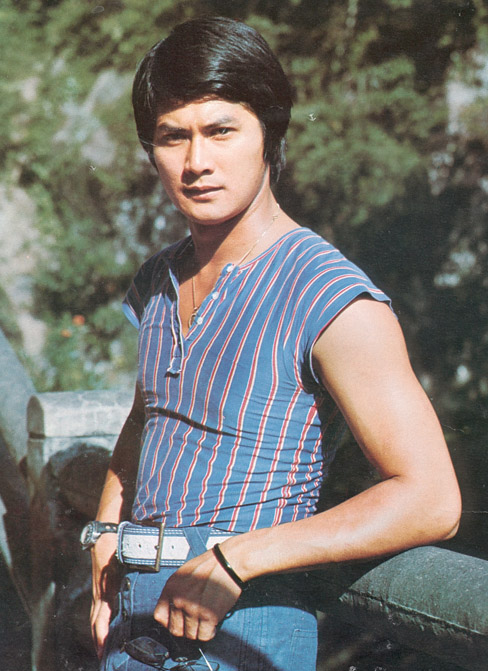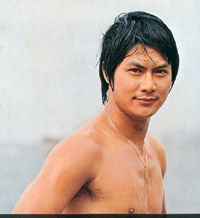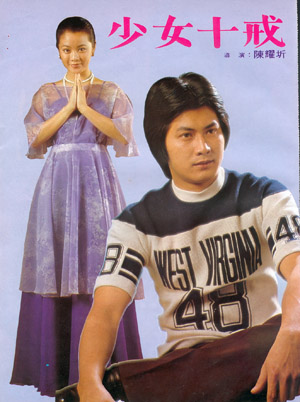 Publicity Pictures of Alan Tang from the 1970's
---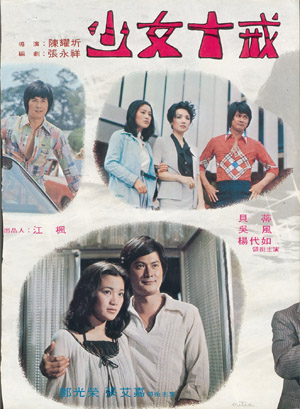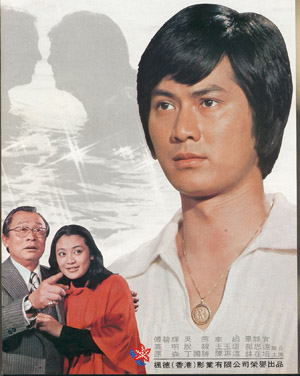 Publicity Pictures of Alan Tang from the 1977 movie Mitra
---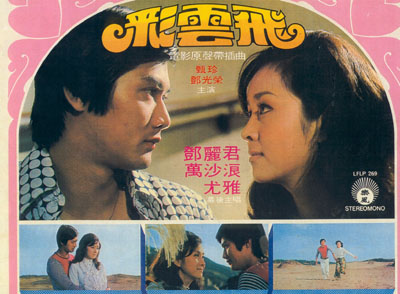 Alan Tang and Chen Chen in The Young Ones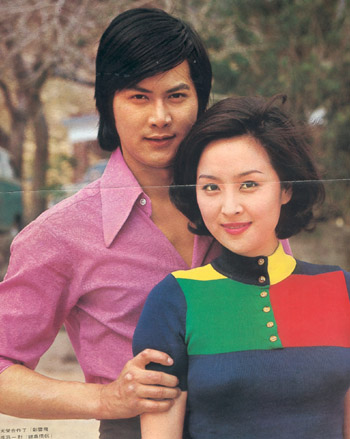 Alan Tang and Chen Chen in Where the Seagull Flies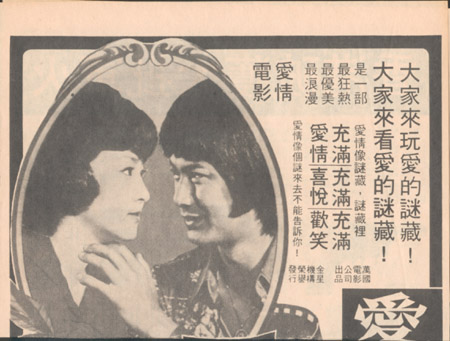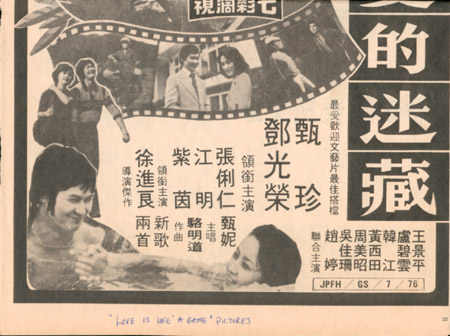 Alan Tang and Chen Chen in Love is Like a Game (1976).
---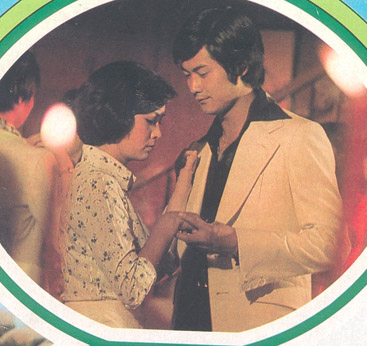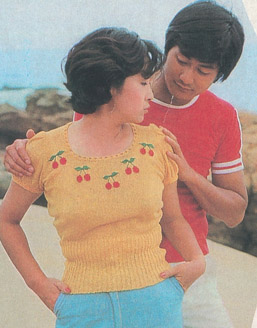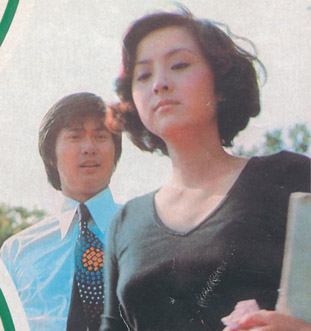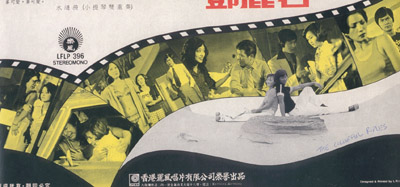 Four pictures of Alan Tang from The Colourful Riples
---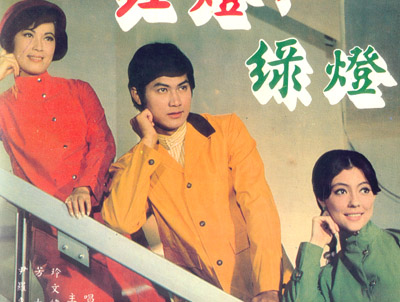 Alan Tang on The Red Light, Green Light sound track record cover
---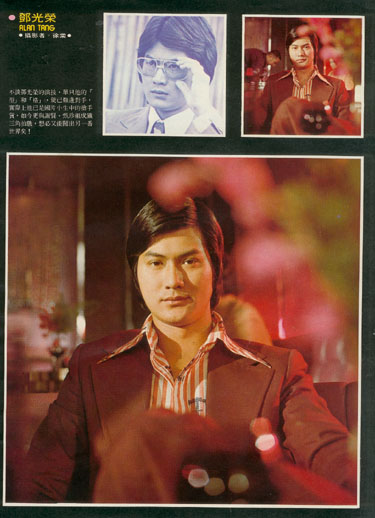 Alan Tang looking good!
---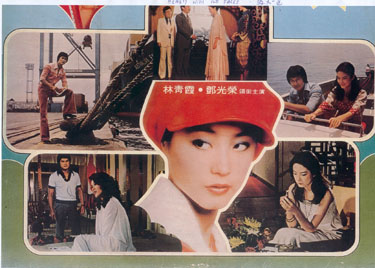 Alan Tang and Brigitte Lin in the 1976 movie, The Beauty with Two Faces.
---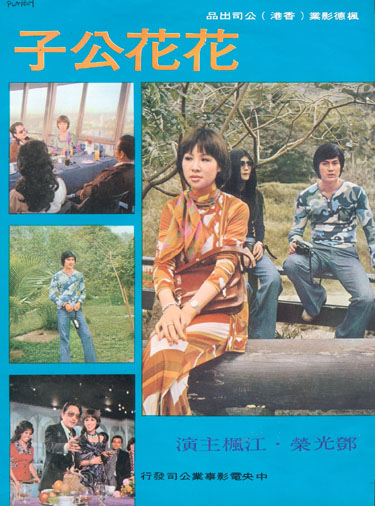 Alan Tang in the 1974 movie, The Playboy.
---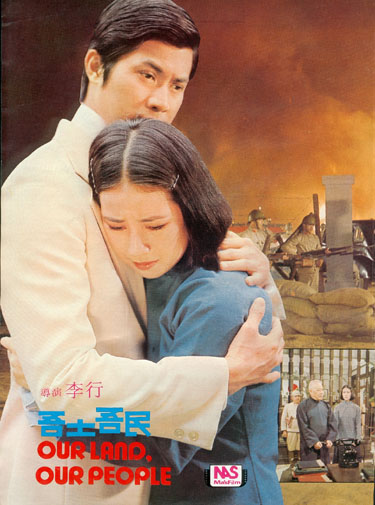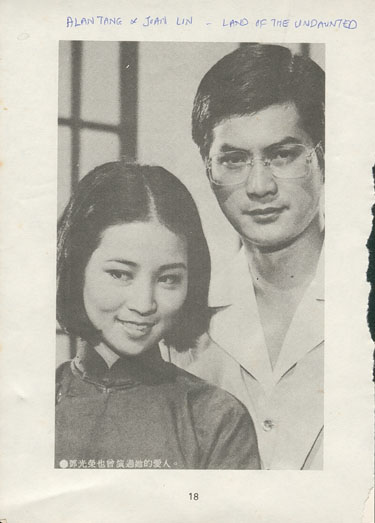 Two pictures of Alan Tang and Joan Lin in the 1975 movie, Land of the Undaunted also called Our Land, Our People.
---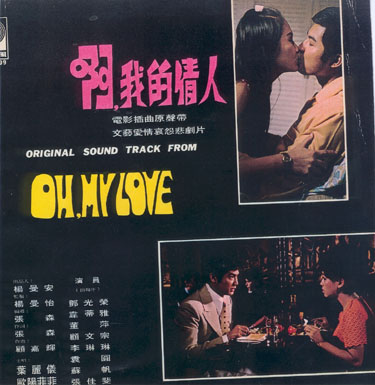 Alan Tang in the 1971 movie, Oh My Love.
---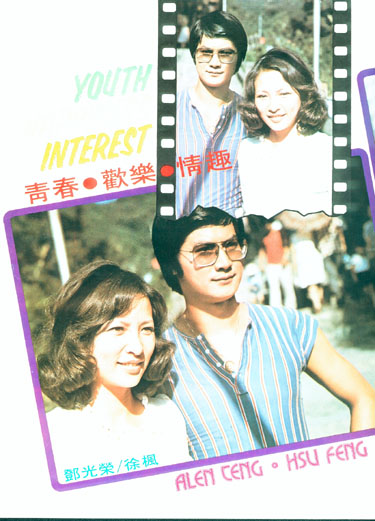 Alan Tang
---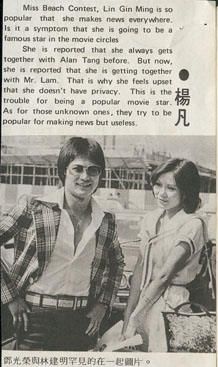 Alan Tang and a friend.
---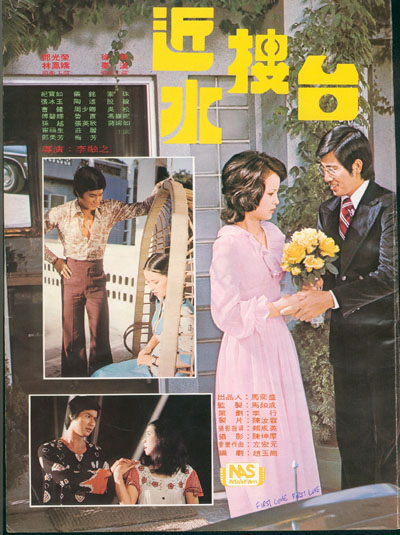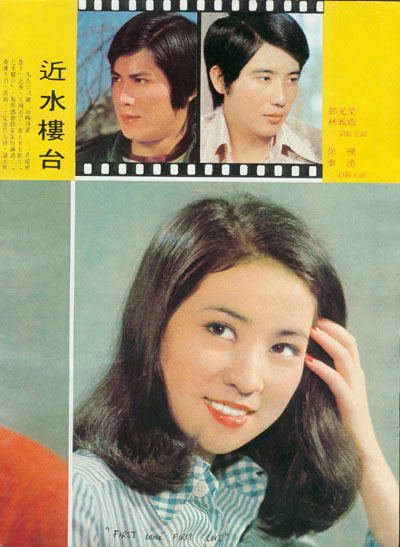 Two pictures of Alan Tang and Joan Lin in the 1974 movie, First Come, First Love.
---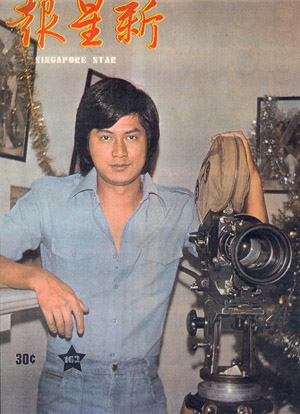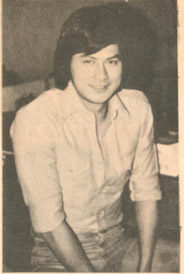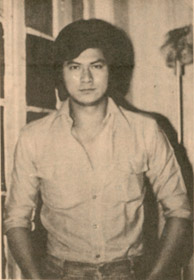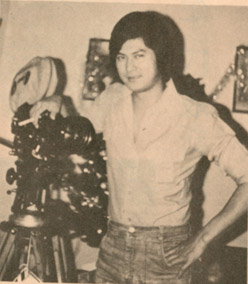 The above six pictures are from a Singapore Star newspaper story on 3/26/77 about Alan Tang making the movie, The Golden Key. In the group shot with Tang are director Lo Wei and Candice Yu.

---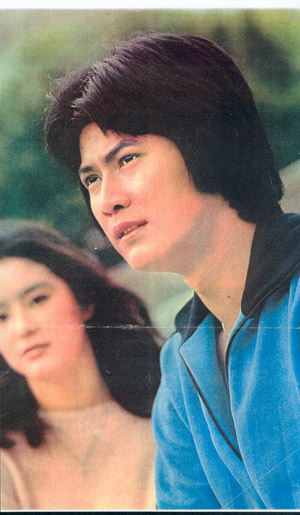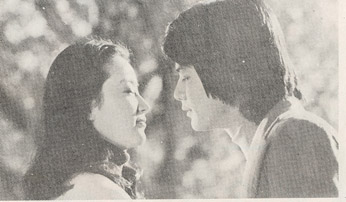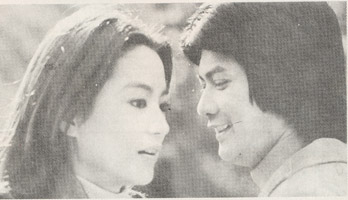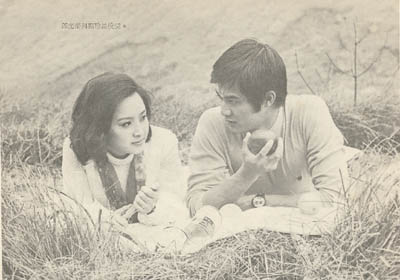 The above six pictures show Alan Tang with some of his beautiful co-stars, Brigitte Lin, Sylvia Chang, Chen Chen, and Candice Yu On On.
BIOGRAPHY

Alan Tang was born on September 20, 1946, in Shunde in Guangdong province in southern China. He first appeared on screen at 16. It was a fluke, really. His good looks helped too. After some of his classmates shown his picture to a film crew shooting at his school The Student Prince, he was hired. Tang was nicknamed « Prince » ever since.

Yet, his professional actor career really began in 1967, after he graduated in Chinese history and started teaching in his old school. He first worked in Hong Kong as a lead in romantic films, but it was only after he left for Taiwan that he became a star. There, he was often the lead role of numerous drama/comedy romances, which were very popular in the seventies. He could be seen on screen opposite several young and promising actresses such as Jen Jen, Brigitte Lin, Joan Lin, Tanny Tien Niu or Sylvia Chang. These romantic films made him an Asian star.

In 1977, Tang founded his own production company in HK, The Wing Scope Film Production Ltd with his brother Rover Tang (the company would later become In-Gear Film Production Co.) and they specialised in more manly genres, namely film noir and heroic bloodshed. Alan Tang was behind and before the camera. Behind as a director (The Discharged, Law Don) but he was mostly producer (New York Chinatown, A Hearty Response and international acclaimed director Wong Kar Wai's first two films As Tear Go By and Days of Being Wild). Tang often teamed up with Stanley Siu Wing who co-directed with him or simply was the director of his own vehicles. Tang was still an actor (Don't Kill Me, Brother) even if his popularity had slowly faded away. He gave noticeable performances as a gangster with a noble heart in film such as Flaming Brothers withChow Yun Fat or Gangland Odyssey.

Alan Tang is also the man who gave Wong Kar Wai to the HK audience, and subsequently to the world, with two films which were not too popular at the time but later gain a sort of cult status. Tang and Wong met in 1987 on the production of Flaming Brothers, a heroic-bloodshed movie directed by Joe Cheung produced by the Tang brothers and co-scripted by Wong. A year later, Tang produced Wong's first directorial effort, As Tears Go By (1988), which enjoyed a great critical success. Two years later, Wong and Tang teamed up again for a new film, universally acknowledged as one of the most beautiful films from the former British colony, Days of Being Wild. Sadly, the local audience didn't follow and the box office take was disappointing. But it gave Wong a solid reputation overseas. After one last job together, Return Engagement (1990), directed by Joe Cheung and co-scripted by Wong again, they took different paths. Wong founded his own film company while Tang kept producing and acting until 1994.

In the first half of the nineties, Alan Tang slowed down his output and gradually withdrew from the film industry. He invested in other businesses, such as restaurants or real estate, until he had finally no more connexions whatsoever with the cinema world.

His last public appearance was in 2008, for the funeral of his old friend actress Lydia Shum. Alan was angry with Lydia's ex-husband Adam Cheng: he blamed him fiercely and publicly for his indifference toward Lydia's misfortune and her daughter, singer-actress Joyce Cheng Yan-yee's fate. Tang was also Joyce's godfather and was against her decision to join the entertainment circle.

On March 29, 2011, Tang's help found him lifeless in bed at his home of Kadoorie Hill, Hong Kong. When EMT arrived, it was already too late. The noble Prince of heroic bloodshed films, a man with a immense magnetism, a Hong Kong version of Alain Delon, no less, passed away peacefully at home and finally met again with his good friend Lydia Shum. May he rest in peace.

Translated from French by Emmanuel Paul, updated by Thomas Podvin, 29/03/2011
Top
FILMOGRAPHY

Alternate lists by alpha / genre / year
Title ( HK - All )
Year
Activity
Kung Fu Scholar
1994
Producer
Black Panther Warriors, The
1993
Producer, Actor
Gun N' Rose
1992
Producer, Actor
Requital
1992
Actor
Days Of Being Wild
1991
Producer
Hong Kong Godfather
1991
Actor
Gangland Odyssey
1990
Brief appearance
Return Engagement
1990
Producer, Actor
Mr Sunshine
1989
Producer
My Dear Son
1989
Producer
Vampire Buster
1989
Producer
As Tears Go By
1988
Producer
Haunted Cop Shop 2, The
1988
Producer, Actor
Flaming Brothers
1987
Producer, Actor
Haunted Cop Shop, The
1987
Producer
Miss Hong Kong
1987
Producer, Actor
Hearty Response, A
1986
Producer
Crazy Romance
1985
Producer
Winner Takes All ?
1984
Producer, Actor
Yellow Peril
1984
Actor
I Do !
1983
Actor
Militarism Revival, The
1983
Producer, Actor
Hong Kong Black Street Lady
1982
Actor
New York Chinatown
1982
Producer, Actor
Don't Kill Me, Brother
1981
Writer, Actor
Twist, The
1981
Actor
Absolute Monarch
1980
Actor, Presenter
Law Don
1979
Director, Actor
Over The Rainbow
1979
Actor
Wickedness In Poverty, The
1979
Actor
Chase, The
1978
Actor
Lam Ah Chun
1978
Brief appearance
Rascal Billionaire, The
1978
Actor
Three Minutes Past Nine
1978
Actor
To Love Or Not To Love
1978
Actor
Who Holds The Golden Key ?
1978
Actor
Discharged, The
1977
Director, Actor
Forever And Ever
1977
Actor
Mitra
1977
Actor
Orchid In The Rain
1977
Actor
Scoundrel, The
1977
Actor
Beauty With Two Faces, The
1976
Actor
Born Rich
1976
Actor
Forever My Love
1976
Actor
Game Of Love
1976
Actor
Little Ancestors, The
1976
Actor
Love By Post
1976
Actor
Love In Hawaii
1976
Actor
Love Is Like A Game
1976
Actor
Morning Date, The
1976
Actor
My Funny Intern
1976
Actor
Yesterday, Today And Tomorrow
1976
Actor
24 Hours Romance
1975
Actor
Blood And Rose
1975
Actor
Floating Clouds, The
1975
Actor
Holocaust, The
1975
Actor
Kiss By The Wolves
1975
Actor
Land Of The Undaunted
1975
Actor
Love Story Of Pian Pian
1975
Actor
Run Lover Run
1975
Actor
Colorful Ripples, The
1974
Actor
Dynamite Brothers
1974
Actor
First Come; First Love
1974
Actor
One Year's Fantasy
1974
Actor
Playboy, The
1974
Actor
Silver Band, The
1974
Actor
Splendid Love In Winter, The
1974
Actor
Too Young
1974
Actor
Where The Seagull Flies
1974
Actor
Adultery Chinese Style
1973
Actor
Back Street
1973
Actor
Death Comes In Three
1973
Actor
Death On The Docks
1973
Actor
Hong Kong Nite Life
1973
Actor
If Tomorrow Comes
1973
Actor
Iron Bull, The
1973
Actor
Love Is A Four Letter Word
1973
Actor
Rats, The
1973
Actor
Unsubdued Furies
1973
Actor
Where Does Love Come From
1973
Actor
Young Ones, The
1973
Actor
Bloody Fight, The
1972
Actor
Brutal Boxer, The
1972
Actor
Changing Love
1972
Actor
Cheating In Panorama
1972
Actor
Hong Kong Criminal Crimes
1972
Actor
Impetuous Fire
1972
Actor
Love And Blood
1972
Actor
Love In A Cabin
1972
Actor
Notorious Ones, The
1972
Actor
Peeper, The Model And The Hypnotist, The
1972
Actor
Songs And Romance Forever
1972
Actor
Stealing Love
1972
Actor
Wild Horse
1972
Actor
I Am Crazy About You
1971
Actor
Invincible Iron Palm, The
1971
Actor
Maria
1971
Actor
Mighty Couple
1971
Actor
Money and I
1971
Actor
Oh My Love
1971
Actor
Song Of Happy Life
1971
Actor
Crazy Bar, The
1970
Actor
Happy Angel, The
1970
Actor
Happy Times
1970
Actor
Miss Not Home
1970
Actor
Modern School Life
1970
Actor
Let's Sing And Dance To Celebrate A Peaceful Year
1969
Actor
One In Yellow, The
1969
Actor
Red Light, Green Light
1969
Actor
Social Characters
1969
Actor
Bride In Chains
1968
Actor
Iron Fiddle
1968
Actor
Time for Reunion, A
1968
Actor
Bunny Girl
1967
Actor
Glamorous Christmas Night, A
1967
Actor
My Fair Lady
1967
Actor
Student Prince, The
1964
Actor
Chàng Mẫn Vân Lâu của "Mùa thu lá bay" đã ra đi vĩnh viễn...
(Mask)- Giới nghệ sĩ Hoa ngữ đau buồn tiễn đưa "nam vương tình cảm" vang bóng thập niên 70- 80 ra đi vĩnh viễn - Đặng Quang Vinh...
Tối 29.3, nam diễn viên thần tượng nổi tiếng một thời của điện ảnh Hồng Kông là Đặng Quang Vinh đã qua đời tại tư gia, do bệnh tim tái phát, hưởng thọ 65 tuổi.
Ông ra đi lúc 21h tại nhà riêng ở khu Mong Kok, Hồng Kông. Người phát hiện ra thi thể của ông là người giúp việc, bà cũng đã ngay lập tức gọi cảnh sát cùng các con của ông sau đó. Khoảng 1 tiếng sau, con gái lớn của Đặng Quang Vinh có mặt tại nhà cha mình. Đặng Quang Vinh ra đi rất nhẹ nhàng...
Đặng Quang Vinh, một trong những diễn viên nổi tiếng thời kỳ hoàng kim của điện ảnh Hồng Kông thập niên 70, 80. Ông đã có nhiều tác phẩm gây được ấn tượng mạnh mẽ với khán giả say mê phim tình cảm hoặc những phim hành động võ thuật.
Đặng Quang Vinh sinh năm 1947 tại Quảng Châu, Trung Quốc, sau đó đến định cư tại Hồng Kông. Năm 1963 khi còn học trung học, một công ty điện ảnh đang tìm kiếm một gương mặt mới để xuất hiện trong phim "The Student Prince" đã phát hiện ra ông. Ông tiếp tục xuất hiện đều đặn trong các bộ phim tâm lý tình cảm dành cho thanh thiếu niên, và phim hài, quyến rũ các fan hâm mộ của mình và có được biệt danh "Hoàng tử." Ông bắt đầu làm việc tại Đài Loan khoảng năm 1970, tham gia vào hàng tá bộ phim lãng mạn hợp tác với những diễn viên như Lâm Thanh Hà, Lâm Phụng Kiều và Chân Trân. Khoảng thời gian này ông cũng bắt đầu chuyển hướng vào các phim hành động và lần đầu tiên thử sức với vai trò sản xuất. Vào năm 1973, ông tham gia vào bộ phim nói tiếng Anh thành công "Dymanite Brothers" (cùng với Timothy Brown và Ngô Hán Chương).
Năm 1973, nhân ngày điện ảnh Việt Nam, cùng với Lý Thanh, Chân Trân, Khương Đại Vệ, Địch Long, Đặng Quang Vinh đã sang thăm Sài Gòn và gặp gỡ các nghệ sĩ Việt Nam như Kim Cương, Thẩm Thúy Hằng, Thanh Nga, Mộng Tuyền.
Năm 1977, Đặng Quang Vinh hợp tác với anh trai thành lập công ty độc lập (ban đầu có tên là Wing-Scope, sau đó đổi thành Hi-Gear), sản xuất hàng loạt phim từ giữa năn 1977 đến năm 1997. Rất nhiều trong số đó là phim hành động, những bộ phim trong một chừng mực nào đó đã cạnh tranh với thể loại phim mà Ngô Vũ Sâm đang thực hiện với Châu Nhuận Phát. Dáng vẻ thanh lịch tự nhiên đã khiến cho những người hâm mộ là phái nữ chết mê khi xem Quang Vinh thủ vai một người tình dần dần gây được chú ý trong những cảnh hành động đặc sắc. Những bộ phim hay nhất của ông trong nửa sau sự nghiệp của mình là "Hoàng Họa" (năm 1984), "Giang Hồ Hổ Đấu" (năm 1987), "Tái Chiến Giang Hồ" (năm 1990), "Long Đằng Tứ Hải" (năm 1992) ...
2 bộ phim "Giang Hồ Hổ Đấu" và "Tái chiến giang hồ" do đạo diễn nổi tiếng Vương Gia Vệ thực hiện, khi mới khởi đầu sự nghiệp. Đặng Quang Vinh cũng sản xuất những bộ đầu tiên của Vương Gia Vệ, như "Vượng Giác Các Môn" (1988) và "A Phi chính truyện" (1991). Đăng Quang Vinh rất được cộng đồng điện ảnh Hồng Kông tôn trọng vì là một người can đảm và vững vàng, thậm chí kể cả khi ông rút lui khỏi giới làm phim vào năm 1993 để kinh doanh nhà hàng. Vài năm trước ông đã xuất hiện trên nhiều trang tin khi ông đọc văn điếu tại lễ tang người bạn tốt của ông, nữ diễn viên Thẩm Điện Hà và chỉ trích người chồng cũ của bà vì đã đối xử tệ bạc với bà. Mùa hè năm ngoái, tờ The Standard, một tờ báo Hồng Kông đã đưa tin rằng Đặng Quang Vinh chính là người đứng đằng sau chiến dịch "Hoàng Tước hành động" (Operation Yellow Bird), một chiến dịch giải cứu bí mật đã lén lút đưa những sinh viên hoạt động chính trị rời khỏi Trung Quốc sau cuộc đàn áp đẫm máu tại quảng trường Thiên An Môn năm 1989.
Tại Việt Nam những năm đầu thập niên 1970, nếu như Địch Long - Khương Đại Vệ là vua phim cổ trang thì "cặp tình nhân" của phim tình cảm Quỳnh Dao chính là "thương hiệu" Chân Trân - Đặng Quang Vinh. Bộ phim nhựa mầu đại vĩ tuyến "Mùa thu lá bay" vang danh khắp Châu Á, làm rơi lệ biết bao con tim yêu đương của các thiếu nữ Sài Gòn và các đô thị lớn. Sau này khi Viện tư liệu phim cho chiếu lại bộ phim này ở các rạp Quốc tế, Đống Đa, Hòa Bình dưới dạng phim tư liệu, cũng gây nên cơn sốt của khán giả Việt Nam sau năm 1975.
Trong những năm gần đây, mặc dù không còn tham gia các hoạt động phim ảnh ở Hồng Kông nhưng Đặng Quang Vinh luôn được các đồng nghiệp cũng như các lứa đàn em hết lòng yêu mến và kính trọng. Thậm chí sau khi ông về hưu, Media Asia Group đã quyết tâm giành quyền phát hành độc quyền bộ phim

In-Gear

của ông dưới dạng DVD.
Lê Quang Thanh Tâm (tổng hợp)